ISSM/SMSNA Virtual Sexual Health Symposium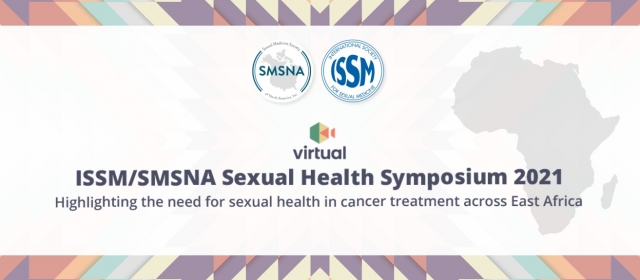 10 December, 2021

Virtual
From 03.00 to 05.00PM UTC
07.00AM PST – San Francisco / 10.00AM EST – New York / 4.00PM CET – Amsterdam / 08.30PM IST – New Delhi / 00.00AM KST – Seoul
Join the ISSM and SMSNA for this Virtual Sexual Health Symposium.
To build on the foundation of our first joint ISSM and Sexual Health Conference held in Kenya in 2019, we are organizing the ISSM and SMSNA Virtual Sexual Health Symposium on December 10, 2021 from 18:00 – 20:00 hrs. East Africa Time (EAT) (3:00 – 5:00 PM UTC). The Virtual Symposium will be an activity that will highlight the need for sexual health in cancer treatment in hospitals from across Eastern Africa. The virtual symposium will focus on sexual health issues of cancer patients post-treatment.
Program
This symposium is scheduled for 120 minutes. Please find a preliminary program below:
Please note that all times are in EAT.
| | | |
| --- | --- | --- |
| Time | Topic | Presenter |
| 18:00 - 18:05 | Introduction – short intro and welcome | Annamaria Giraldi, Denmark; President ISSM Serge Carrier, Canada; President SMSNA |
| 18:05 - 18:15 | Sexuality and culture | Joachim Osur, Kenya |
| 18:15 - 18:25 | Sexual health literacy | Sharon Bober, USA |
| 18:25 - 18:35 | Management of post-radiation erectile dysfunction | Luca Incrocci, Netherlands |
| 18:35 - 18:55 | Q&A | All faculty |
| 18:55 - 19:05 | Sexual health after gynecological cancer treatment | Tami Rowen, USA |
| 19:05 - 19:25 | Psychosexual assessment in patients with male & female cancers – case studies | Annamaria Giraldi, Denmark and Phillip Odiyo, Kenya |
| 19:25 - 19:35 | How to do a sexual health assessment of couples | Daniela Wittmann, USA |
| 19:35 - 19:55 | Plenary discussion on development of sexual medicine in East Africa: The role of ISSM and SMSNA | Panel: Phillip Odiyo, Annamaria Giraldi, Joachim Osur, Daniela Wittmann and Serge Carrier |
| 19:55 - 20:00 | Closing | |
Registration
Sponsorship
The ISSM and SMSNA Virtual Sexual Health Symposium is a prime marketing opportunity for you to reach a broad segment of professionals with interests in the field of urogynecology. As a sponsor of the meeting, you will become highly visible, you will be an integral part of the event and you will gain valuable exposure to key decision-makers and benefit from personal interaction with all attendees. If you are interested to be part of this international meeting, please contact:
ISSM Executive Office
Address: Zaanweg 119a, 1521 DS Wormerveer, The Netherlands
Phone: +31 (0)75-647 63 72 | Fax: +31 (0)75-647 63 71
Email: This email address is being protected from spambots. You need JavaScript enabled to view it.