The Role of Attachment and Childhood Maltreatment in Provoked Vestibulodynia Treatment Outcomes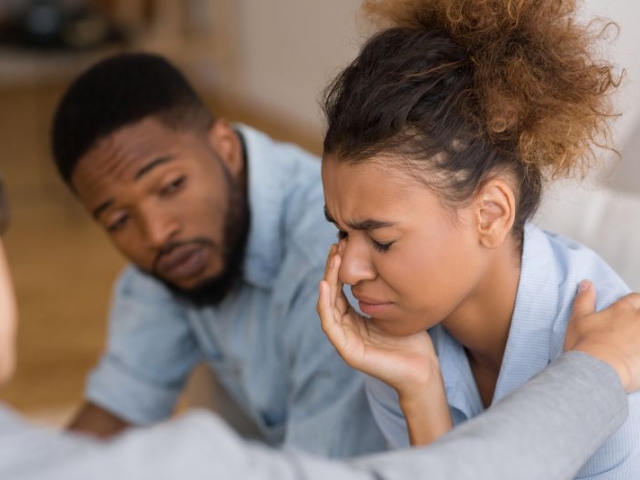 Sexual Health Topics:

Women's Sexual Health
Introduction
Provoked vestibulodynia (PVD) is the most common form of vulvodynia, occurring in an estimated 8%-10% of women of all ages worldwide. It is a chronic pain condition that results in painful sexual intercourse because PVD causes sharp, cutting, or burning pain for a woman whenever pressure is applied to the vestibule (PVD can even make putting in a tampon painful).
Past studies have shown associations between sexual dysfunctions such as PVD and distal factors such as attachment and childhood maltreatment. Attachment describes the attitudes/tendencies of individuals in relationships that they usually develop as a result of the consistency and quality of care they received as children. Attachment can span from anxious to avoidant. Attachment anxiety is characterized by fear of abandonment and the excessive need for closeness in adult relationships, whereas attachment avoidance involves a lack of comfort with emotional intimacy and extreme self-reliance.
Childhood maltreatment, or the sexual, physical, or emotional abuse of a child under 18 years of age, has also been linked to sexual dysfunction. Given these proven associations, a team of researchers developed a randomized clinical trial to examine the influence of attachment and childhood maltreatment on the effectiveness of two PVD treatments (topical lidocaine and cognitive-behavioral couple therapy) for a group of 108 women with PVD who were in a romantic relationship at the time of the study.
Methods
The 108 participants were randomly assigned to a 12-week treatment program of either (A) topical lidocaine or (B) couple therapy. Several variables were assessed once at the beginning of the study or at three points during the process: pre-treatment, post-treatment, and at a 6-month follow-up. Participants completed the following questionnaires for the study:
The Experiences in Close Relationships – Short Form was used to measure attachment.
The Childhood Trauma Questionnaire (CTQ) – Short Form assessed instances of childhood emotional, physical, or sexual abuse, and/or emotional or physical neglect.
The Global Measure of Sexual Satisfaction measured satisfaction with the participants' current partners and sexual relationships.
The Female Sexual Distress Scale-Revised was used to measure sexual distress.
The Female Sexual Function Index assessed the level of sexual functioning of the participants.
Results
The results of this randomized clinical trial indicated that both attachment and childhood maltreatment are significant modifiers of treatment outcomes for PVD, particularly when it came to the highly interpersonal treatment option of couple therapy. As the authors of the study stated, "At either post-treatment or 6-month follow-up, in the couple therapy condition, women with greater attachment avoidance had poorer outcomes on sexual distress, satisfaction and function, whereas women with higher levels of childhood maltreatment had poorer outcomes on sexual satisfaction and sexual function, compared to women in the lidocaine condition."
Discussion & Conclusion
Because the results of this study support the authors' original hypothesis that distal factors such as attachment and childhood maltreatment can impact the treatment of sexual dysfunctions (in this case, PVD), they recommend that health care providers take these factors into account when working with patients. This information may be particularly relevant when considering interpersonal treatment options like couple therapy because these options may be less effective for patients with attachment insecurity or a history of childhood maltreatment.
Certainly, the results of this randomized control trial would need to be replicated to strengthen their clinical significance. Nevertheless, they suggest ways in which interpersonal factors can affect the treatment process for better or worse.
The authors summarized, "The present study showed that women with PVD with greater attachment insecurity and/or childhood maltreatment history benefited less from nontailored couples' interventions of high interpersonal nature, in the present case a cognitive-behavioral couple therapy for PVD, and benefited more from the application of topical lidocaine for improving their sexual wellbeing. Although the present findings should be interpreted carefully until further replication, healthcare professionals should account for attachment and childhood maltreatment while pondering treatment modalities, as these variables have implications for the interpersonal dimensions of treatment, such as level of disclosure, help-seeking behaviors, trust, and compliance."
---
Resources:
Charbonneau-Lefebvre, V., Vaillancourt-Morel, M.P., Rosen, N.O., Steben, M., & Bergeron, S. (2022). Attachment and Childhood Maltreatment as Moderators of Treatment Outcome in a Randomized Clinical Trial for Provoked Vestibulodynia. The Journal of Sexual Medicine, 19(3), 479-495. DOI: https://doi.org/10.1016/j.jsxm.2021.12.013