What should I know about anal sex and HIV risk?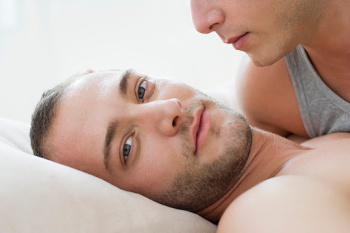 Anal intercourse – when one partner inserts their penis (or a finger or sex toy) into the other partner's anus – is a highly risky activity for transmission of HIV (the virus that causes AIDS) as well as other sexually-transmitted infections (STIs).
---
Anal sex partners are usually described as tops (the person inserts his penis into the anus) and bottoms (the person who receives the penis in the anus).
According to the U.S. Centers for Disease Control and Prevention (CDC), bottom partners are 13 times more likely to become infected with HIV than top partners.
---
Why is anal sex so risky?
During anal sex, partners can come into contact with body fluids like blood, semen, pre-seminal fluid, and rectal fluid. These fluids can contain HIV.
Viruses and bacteria can enter the top partner's body through cuts and sores on the penis or a finger. Sometimes, these cuts are so small, you don't even know they are there.
The anatomy of the anus makes transmission riskier for the bottom partner. The lining of the anus is thin and does not lubricate like the vagina does. As a result, it can tear, making it easier for viruses and bacteria to enter.
Other STIs, including gonorrhea and chlamydia, can be spread through anal sex as well.
---
Talking to a doctor
Unfortunately, not all people tell their doctors that they have anal sex. For many, anal sex is taboo and participants are reluctant to discuss it at all. Some feel embarrassed or ashamed.
In a 2020 Journal of Sexual Medicine study of 1,263 men who have sex with men, researchers found that stigma often prevented participants from discussing their anal sex practices with their doctors. By staying silent, patients may not get access to safe sex advice and healthcare services that could lower their risk for HIV transmission.
The study authors encouraged healthcare providers to help patients become more comfortable with the topic of anal sex.
---
Safe anal sex
People who have anal sex should make sure they do so safely:
Know your partner's status. If your partner has a history of STIs, they should disclose that to you. Likewise, if you have or have had an STI, you should be honest about it.
Use condoms consistently and correctly. A condom should be used during every sex act.
Use a lubricant. Lubricants reduce friction, which can make anal sex safer and more comfortable. Water- and silicone-based lubricants are recommended. Oil-based lubricants should be avoided, as they can break down the latex in condoms.
Ask your doctor about medications. Some drugs might reduce HIV transmission risk:

Pre-exposure prophylaxis (PrEP) drugs are intended for people without HIV who are at high risk for becoming infected.
Post-exposure prophylaxis (PEP) drugs might reduce risk after sexual activity if you think you've been exposed to HIV.
Antiretroviral therapy (ART) is an ongoing drug protocol for people who are HIV-positive.
Note: These drugs might decrease HIV risk, but they do not protect against other types of STIs.
---
Resources