Why Might Spinal Cord Injuries Affect Sexual Health?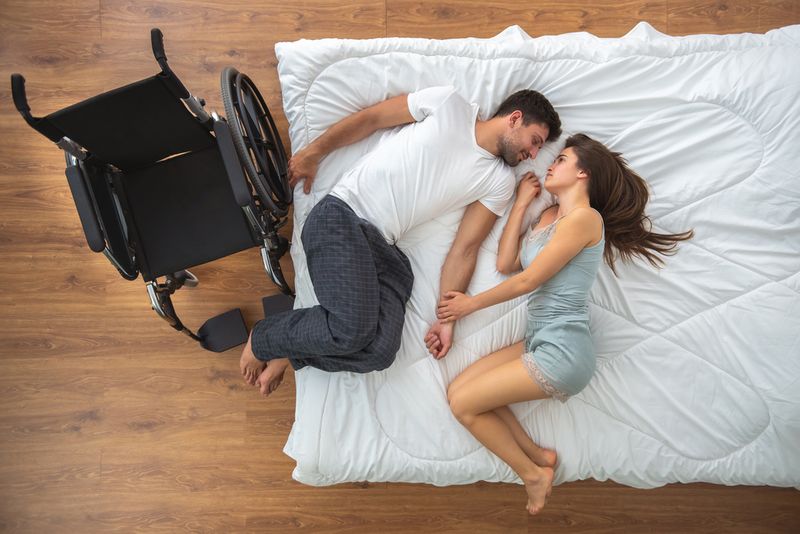 Spinal cord injuries can cause changes in the body that impact a person's sexual function. People with spinal cord injuries may experience a loss of motor function, sense of touch, and sexual reflexes, depending on the severity of their injury. These changes can affect orgasms, erections, ejaculation, and vaginal lubrication.
Going through such changes can be a major emotional blow, and people with spinal cord injuries understandably may experience feelings of grief, loss, and anger. However, many individuals with spinal cord injuries go on to nurture their sexuality and have satisfying sex lives, making adjustments when necessary and fostering intimacy with partners in new ways.
What is the spinal cord and what is its purpose?
The spinal cord is a bundle of nerves that runs from the base of the brain to the low back through the spine in an opening called the spinal canal. A delicate structure, the spinal cord is one of the main parts of the body's nervous system and transmits messages between the brain and the rest of the body. This allows the brain to control the body's functions including voluntary and involuntary muscle movements (reflexes), sensory functions (e.g., feeling heat, pressure, pain, etc.), and automatic functions like digestion and heart rate.
What happens when the spinal cord is injured?
When the spinal cord is injured, the connection between the brain and the parts of the body below the injury can be damaged or broken, resulting in a temporary or permanent loss of movement and feeling in these areas. In less severe cases, a person with a spinal cord injury may maintain some muscle function and sensation but experience weakness in the parts of their body below the injury.
Spinal cord injuries are classified as either "complete" or "incomplete." A complete spinal cord injury is characterized by the inability to feel or tighten the anus, whereas an incomplete injury allows for sensation and tightening of the anus.
How might sexual function be impacted by a spinal cord injury?
In the period of time immediately after a spinal cord injury, both men and women temporarily lose their ability to have reflexive sexual responses. Fortunately, this can improve over time. Nevertheless, depending on the severity of the injury, a person may no longer be able to feel sensations in or around the genital region, or these sensations may be significantly diminished. The body may not respond to sexual stimulation in the same way as it had before the injury, and arousal reflexes such as erections and vaginal lubrication may be impacted.
Some men with spinal cord injuries find it more difficult to get erections or find that their erections are not as firm or do not last as long as they used to. However, approximately 80% of men recover some erectile function within two years of the injury. More often, men have difficulties with ejaculation such as retrograde ejaculation or anejaculation (the absence of ejaculation). An estimated 95% of men experience ejaculation problems after injuring their spinal cord. It is possible for men with spinal cord injuries to orgasm but not ejaculate, and about half of men with such an injury are still able to orgasm.
Women may find that their vaginal lubrication has decreased after spinal cord injury. While about half of all women with a spinal cord injury report still being able to orgasm, it may take more time or different techniques to reach orgasm.
In general, frequency of sexual activity tends to decrease temporarily after spinal cord injury for both men and women. This is not unusual because after any traumatic health-related event, it may take time for an individual or couple to navigate the new realm of sexuality.
How can people with spinal cord injuries regain a satisfying sex life?
In many cases, individuals with spinal cord injuries regain some sexual function over time. Although resuming sexual activity after injury may seem daunting or discouraging at first, sexual medicine specialists and sex therapists can support individuals and couples during this transition.
Masturbation can be a good starting point for rediscovering what is pleasurable and exciting in sex. People with spinal cord injuries may benefit from experimenting with vibrators on the genitals and other erogenous zones and seeing where they experience the best sensations. Often after spinal cord injury, different parts of the body such as the ears, neck, inner thighs, and nipples can become more sexually pleasurable. There are specialized, hands-free vibrator options available for people with limited mobility.
Women who are experiencing problems with vaginal lubrication may find that personal lubricants or receiving oral sex from a partner can help. Stimulating the vagina can still spur vaginal lubrication even if there is no corresponding sensation.
There are also options available for men who are experiencing erectile difficulties including oral erectile dysfunction medications, intracavernous injections, and vacuum erection devices. Alternatively, a vibrator held to the head of penis may stimulate an erection in some men.
For couples who are engaging in penetration, there are several options of sexual furniture that can facilitate easier and more comfortable sexual positions.
Above all, it is important to remember that sexuality extends beyond sexual intercourse. Couples can cultivate intimacy and express their sexuality through hugging, kissing, engaging in massages, and sharing sexual fantasies with one another.
---
Resources:
Popular Women's Sexual Health Questions