What Is Premature Ejaculation?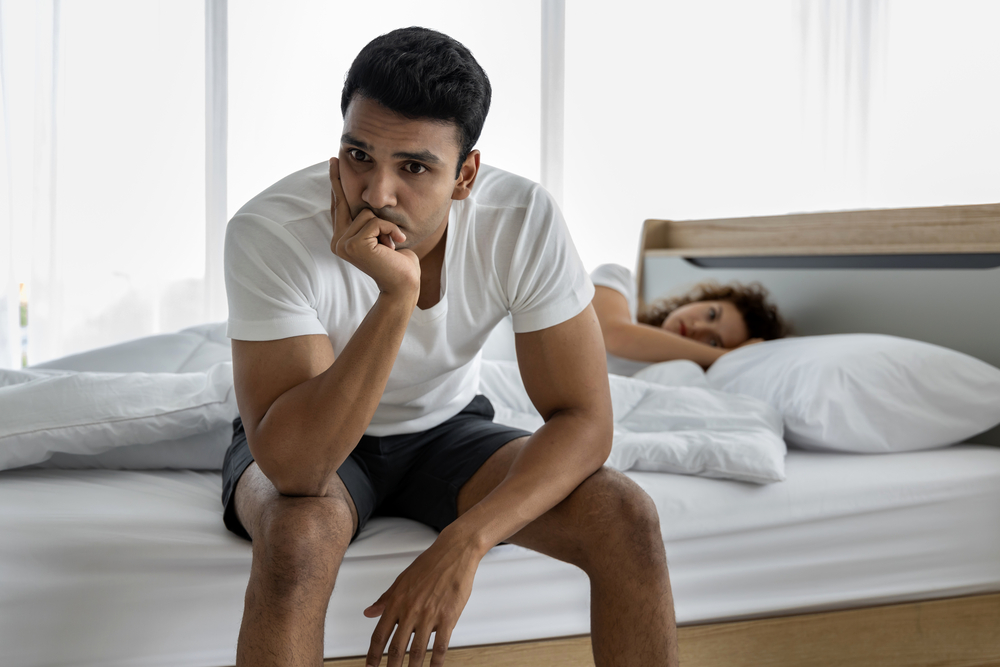 Some men believe that they ejaculate too quickly during sexual activity or feel that they do not have much (if any) control over how quickly they ejaculate. This situation can lead to personal distress, partner distress, decreased sexual satisfaction, and/or relationship issues, but when is it technically considered premature ejaculation (PE)?
Although definitions of PE vary, the International Society for Sexual Medicine (ISSM) defines PE as a male sexual dysfunction in which ejaculation always or almost always occurs prior to or within about 1 minute of penetration. It is a condition characterized by the inability to delay ejaculation during sexual activity all (or nearly all) of the time that causes personal distress and may even lead to the avoidance of sexual intimacy.
PE can be lifelong if it has been occurring since an individual's first sexual encounter or acquired if it begins occurring at some point later in a person's life.
What causes PE?
There are many factors that may contribute to PE, including psychological and biological causes. The following is a list of situations and conditions that may play a role in causing PE:
Sexual abuse
Past sexual experiences
Depression
Anxiety
Stress
Worry about premature ejaculation
Low self-esteem or poor body image
Erectile dysfunction
Weakened pelvic floor muscles
Relationship issues
A hormonal imbalance
An imbalance of neurotransmitters in the brain
Infection or inflammation of the prostate or urethra
Heredity
What are the treatments for PE?
Treatments for PE should be aimed at addressing the underlying cause(s) of the condition, which will vary from person to person. Here are some of the most common treatments for PE:
Pelvic floor exercises (if weakened pelvic floor muscles are contributing to PE)
Topical anesthetics to reduce penile sensitivity
Selective serotonin reuptake inhibitor (SSRI) antidepressants and some analgesics (pain medications), which may delay ejaculation
Phosphodiesterase-5 inhibitors (PDE5i), or drugs used to treat erectile dysfunction, may also help PE
Counselling can be helpful for addressing any psychological or relationship issues that may be contributing to PE
Changes to behavior before or during sexual activity may help delay ejaculation
How can I delay ejaculation?
Sometimes, simple changes to a person's sexual behaviors or routine can be beneficial for people experiencing PE. For example, masturbating an hour or two before a sexual encounter could help delay ejaculation during sex. Additionally, using condoms can decrease penile sensitivity which may also be helpful. Finally, the "pause-squeeze" and "stop-start" techniques may be used to delay ejaculation. For the "pause-squeeze" technique, a couple engages in sexual activity as usual but when the urge to ejaculate arises, the partner squeezes the penis where the head meets the shaft until the urge goes away. During the "stop-start" technique, the couple stops sexual activity before ejaculation, then resumes sexual activity when the impulse goes away.
---
Resources:
Serefoglu, E.C., McMahon, C.G., Waldinger, M.D., Althof, S.E., Shindel, A., Adaikan, G., Becher, E.F., Dean, J., Giuliano, F., Hellstrom, W.J.G., Giraldi, A., Glina, S., Incrocci, L., Jannini, E., McCabe, M., Parish, S., Rowland, D., Segraves, R.T., Sharlip, I., & Torres, L.O. (2014). An evidence‐based unified definition of lifelong and acquired premature ejaculation: Report of the second International Society for Sexual Medicine Ad Hoc Committee for the Definition of Premature Ejaculation. The Journal of Sexual Medicine, 11(6), 1423–1441. DOI: https://doi.org/10.1111/jsm.12524