How Can Couples Make More Time for Sex?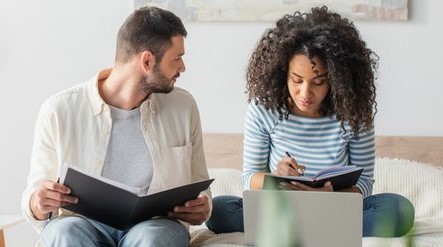 For busy couples facing seemingly endless demands upon their time, it may feel like sex always takes a back seat to work, education, chores, parenting, and other important priorities. Certainly, the ebb and flow of sexual activity is normal in a long-term relationship, and putting off sex may even be necessary in times of major life changes such as soon after childbirth. Nevertheless, if it is consistently difficult for you and your partner to find time for sex in your day-to-day lives, the following are a few things you can try.
Open the dialogue around sex.
If sex is important to you and you would like to start making more time for it, the first step is to talk to your partner about it. Though this can be an informal chat, it is important to approach it from a place of curiosity and positivity, rather than blame and/or resentment. Start by recognizing the things that are going well in your relationship, even if they are not related to sex. This sets the stage for productive communication about your thoughts and feelings about sex, and how you may be able to prioritize it as a couple.
While the lack of time may be the easiest culprit to blame, keep in mind that it is possible that other emotional or physical factors are impeding your sexual connection as a couple. If this is the case, open communication can be helpful for addressing any concerns and expressing any sexual desires each of you may have.
Manage your expectations.
Sometimes, couples expect sex to be a grand event complete with a romantic buildup and intense orgasms at the end. Although this can be the case on occasion, maintaining such high expectations about sex may actually hinder your connection as a couple if you do not have time for a drawn-out event. Instead, consider embracing the pleasure of sex in whichever form it comes, including the "quickie."
Redefine intimacy.
Similar to the previous suggestion, some couples find it helpful to remember that intimacy encompasses more than just sex. Engaging in hugs, kisses, nonsexual massages, cuddling, holding hands, and other forms of emotional and physical closeness can help partners connect with one another. Paradoxically, taking the pressure off sex as the sole means of intimacy may actually increase your chances of having it.
Recognize responsive desire.
Historically, researchers thought of sexual response as occurring in a linear way and progressing from desire to arousal to orgasm to resolution. Accordingly, many couples believe that they have to be in the mood to have sex before initiating it. However, current models of sexual response suggest that desire can be responsive to arousal, meaning that you may start to feel turned on once you start sexual activity. In this case, you might consider engaging in arousing situations with your partner to initiate responsive desire.
Explore your sexual fantasies.
If you believe that you and your partner may not be making time for sex because it has become too routine or even boring, consider exploring sexual fantasies with your partner to liven things up. Novel sexual experiences may be the motivation you need to reprioritize sex.
Schedule sex.
Finally, many busy couples find it useful to schedule sex. While this may not feel as appealing as spontaneous sex at first, it can be an effective way to maintain your connection and sex life even when life is hectic. What's more, having sex on the calendar can reduce anxiety about not having enough time for it, and it may increase anticipation of the experience.
---
Resources:
Popular Women's Sexual Health Questions