Rates of Erectile Dysfunction, Depression, and Anxiety in Men with Functional Anorectal Pain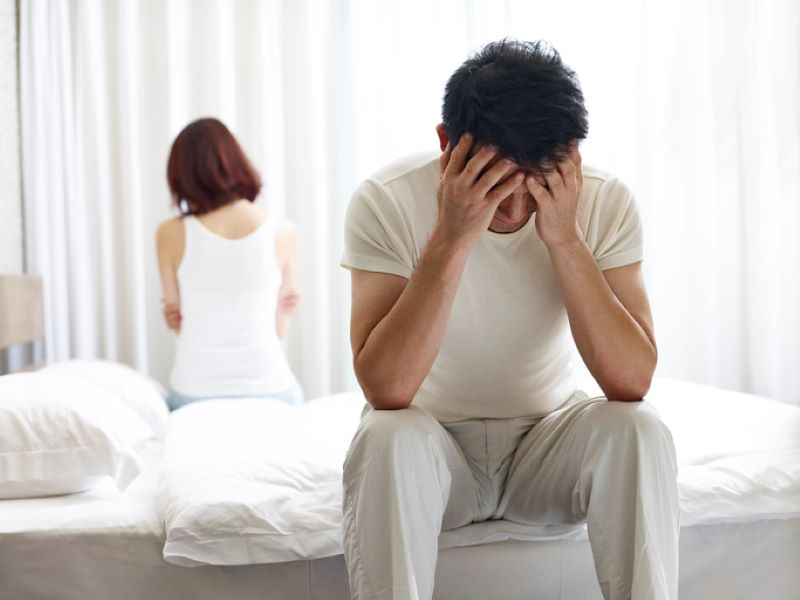 Functional anorectal pain (FARP) is a condition in which people feel pain in their anus or lower rectum. An estimated 2-5% of people have chronic anal pain, and 8% experience sudden rectal pain. However, many people with FARP don't tell doctors about it, so the actual number might be higher.
This type of pain could be linked to tense pelvic floor muscles, so treatment aims to relax these muscles. Stress, depression, and anxiety may trigger the pain as well.
Pelvic floor muscles and psychological processes are also involved in supporting a person's erectile, ejaculatory, and overall sexual functioning. As such, the authors of a recent study hypothesized that FARP in men may be associated with erectile dysfunction (ED) and mental health issues like depression and anxiety. The researchers recruited 406 men (323 with FARP and 73 healthy controls) for a survey to test this theory.
Participants were asked to complete demographic and disease characteristics as well as three questionnaires for this study: the 5-item International Index of Erectile Function (IIEF-5) to assess erectile function, the Patient Health Questionnaire–9 (PHQ-9) to measure symptoms of depression, and the Generalized Anxiety Disorder 7 (GAD-7) to assess anxiety symptoms.
Upon collecting the surveys and analyzing the participants' responses, the researchers found several statistically significant trends in the data. They found that people with FARP were more likely than the healthy individuals to have serious ED, depression, and anxiety. The participants with FARP also had lower scores IIEF-5 scores, which indicates worse erectile functioning, and higher PHQ-9 and GAD-7 scores, which measure depression and anxiety, respectively.
When analyzing the demographic characteristics of the participants, the researchers found that the age, ethnicity, and marital status were similar between the FARP group and the control group. They also looked at factors like smoking, drinking, work habits, and diet preferences. Some of these factors did seem to have an impact on FARP severity. Higher alcohol intake, work pressure, prolonged sitting, and prolonged bowel movements were all associated with increased FARP severity.
Interestingly, the study found that as the severity of FARP increased, the risk of ED, depression, and anxiety also increased. This means that people with more severe pain were more likely to experience these other issues.
Overall, this study suggests that FARP is associated with a higher risk of ED, depression, and anxiety. It also shows that the severity of FARP is linked to the severity of these other problems. Therefore, it would be a good idea for patients with FARP to be screened for these other potential health problems so they can seek treatments that improve their overall well-being and quality of life.
---
References:
Ma, H. F., Zhang, Y. Y., Yu, Q., Li, J. N., Lai, L. X., Wang, Y. M., & Ma, J. X. (2023). Erectile dysfunction, depression, and anxiety in patients with functional anorectal pain: a case-control study. The Journal of Sexual Medicine, 20(8), 1085-1093. https://doi.org/10.1093/jsxmed/qdad082