Is It Safe to Have Sex During Pregnancy?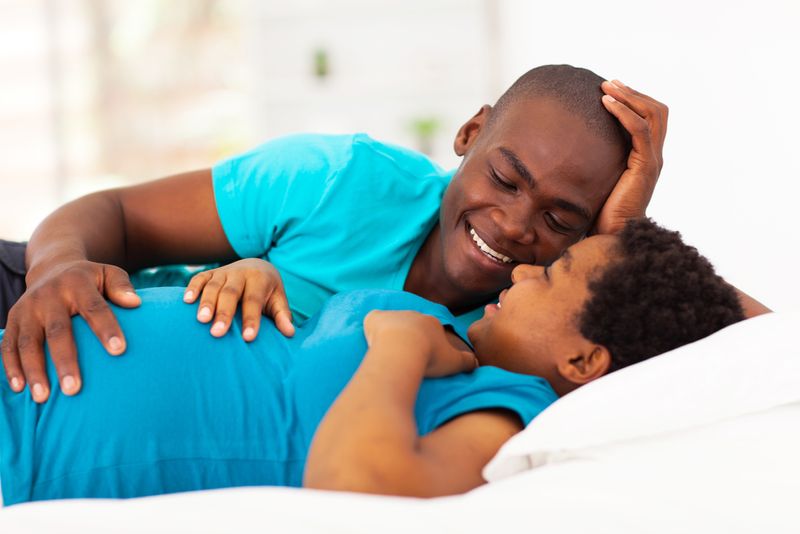 Yes, usually it is safe to have sex during pregnancy. The muscular walls of the uterus and the amniotic fluid surrounding the developing fetus protect it from outside forces, so engaging in sexual activity during a normal pregnancy does not harm the baby or the mother.
As a matter of fact, generally, abstinence during pregnancy is only required in special circumstances. Nevertheless, if you have pregnancy complications (e.g., high risk of miscarriage, unexplained vaginal bleeding, leaking amniotic fluid, etc.) or you have questions about which sexual activities are safe for you during your pregnancy, it is a good idea to speak directly with your OB-GYN and/or perinatologist. Keep in mind that everyone's circumstances are unique, which is why it is best to consult your health care provider about your specific situation when in doubt.
Other things to consider regarding sex during pregnancy.
Although it is safe for a woman to have sex during a normal pregnancy, here are some additional things to keep in mind:
Pregnancy occurs in three stages called trimesters. Often, women experience nausea, fatigue, and other symptoms during the first trimester, which may temporarily reduce their sexual desire. During the second trimester, however, heightened hormones and blood flow to the sexual organs may increase a woman's sex drive and pleasure during sexual activity. Finally, during the third trimester, women may find sex less comfortable due to the size of the fetus near birth.
Individuals should use condoms for every sexual experience in which they are unaware of their partner's sexually transmitted infection (STI) status or are not in a mutually monogamous relationship, and this includes pregnant women. Pregnant women can still contract STIs, and these infections can affect the baby as well.
Certain sexual positions like missionary (in which the woman is on her back with her partner on top) are not recommended during later stages of pregnancy. Instead, couples should experiment with other positions such as the woman on her side or on all fours with her partner behind.
It is likely that a woman's interest in sex will decline leading up to and immediately after giving birth, and that her sexual organs will be temporarily affected by childbirth. While childbirth can impact a woman's sexual function in the short term, past research has indicated that most women gradually and steadily regain their sexual functioning and desire in time. In the meantime, couples are encouraged remember that intimacy encompasses more than just sex, and they may choose to nurture their connection through kissing, hugging, cuddling, touching, and/or sharing massages.
---
Resources:
Popular Sexual Orientation & LGBTQIA+ Health Questions